Where does the restaurant veteran eat? Where do we hunker down and call it a night? And given our typical mood after a grueling shift of novice diners and long wait times, what do we stuff down our gullets for comfort and satisfaction? I've held just about every position in the restaurant industry from dishwasher to bar management. Even though I've traded in my apron for a Realtors pin, I still miss it. This article and the ones to follow are in no way restaurant reviews. Instead we'll share what my restaurant friends and I have found to be satisfying over years of our own trial and error.
I imagine most people reading this first entry will be friends if not at the least associates of mine. So I will talk about where I found solace after a night of having my patience drawn and quartered as a bar manager. In future entries there will be guests.
Entry #1, Rye't On Man, Go With The Reuben.
Smack dab in the middle of Tacoma's Hilltop is a little spot known as ElevenEleven. A truly Tacoma bar experience. But fear not, although Hilltop may slowly be getting overrun with the flannel hipster crowd, the plaid here is genuine. I imagine most of the PBR and Rainier drinkers here actually like the taste of either and could care less if it was cool before it was cool. This is probably why I fit in so well. Blue collar locals please take a seat. Owned by the Peterson brothers, Justin and Robby, it's hard to say whether they're known better for their impressive matching beards or great Tacoma bars including The Valley.
So what takes the memory of a Friday night shift away? How about the best Reuben sandwich in Tacoma? Yeah, all of Tacoma. Reubens are by far my favorite sandwich and 1111 kills the competition. Remember, it's not always about being true to the original. It's about making it your own as well. The usual suspects are all there. Loaded with tender and rich brisket pastrami, a layer of bitter and crunchy sauerkraut, melted swiss cheese, that amazing house made thousand island, and a marble rye hoagie…. Yes, a hoagie. I'm not looking for thinly sliced bread that breaks down faster than me on a dance floor. If I wanted to eat my sandwich with a fork I'd develop an allergy to gluten. Bread is the method by which the messy sandwich will convey its delicious guts to my own. And that damn fluffy marbled rye hoagie makes it special and brings it home. Don't forget about the options for chips (salt and vinegar all the way) or soup/salad for another buck. Plus a pickle spear, I always ask for two.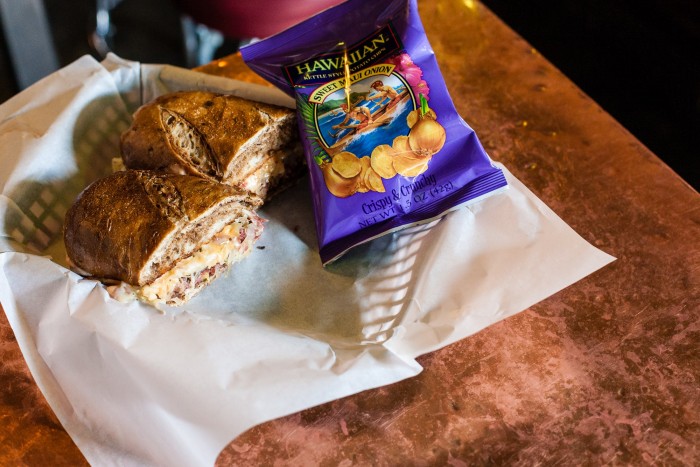 What to pair with the sandwich? The explanation is short and wonderful. It's the customary restaurant worker's after shift combo. Someone could write a song about it. A beer and a shot! I'm going for Double Mountain's The Vaporizer American pale ale, and none other than whiskey, Bulleit Rye whiskey to be exact. Rye with Rye, baby! You can sip it, you can shoot it, you can buy me one and we'll make a memory together. Bulleit Rye has that great warm spicy bite you would expect from rye, but it's smooth enough to have standing alone. It matches the caraway seeds of the hoagie and compliments that sweet thousand Island oh so well. Match it with Double Mountain's Vaporizer and you'll soon understand why we treasure this combination.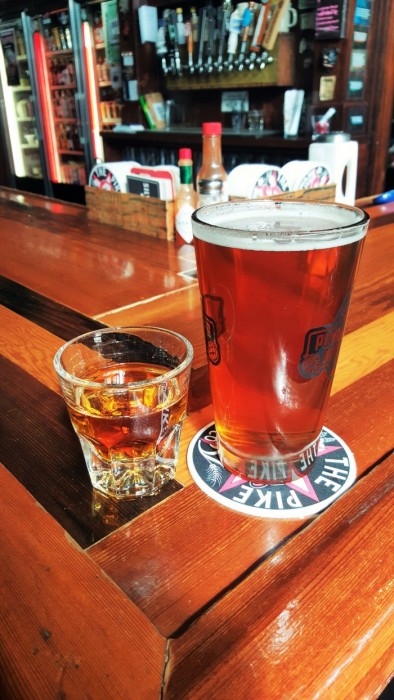 Remember, if your day is as long as your beard and because a full belly pairs well with a relaxed mind, don't pass up on 1111's reuben with a beer and a shot. Tell them John sent you.